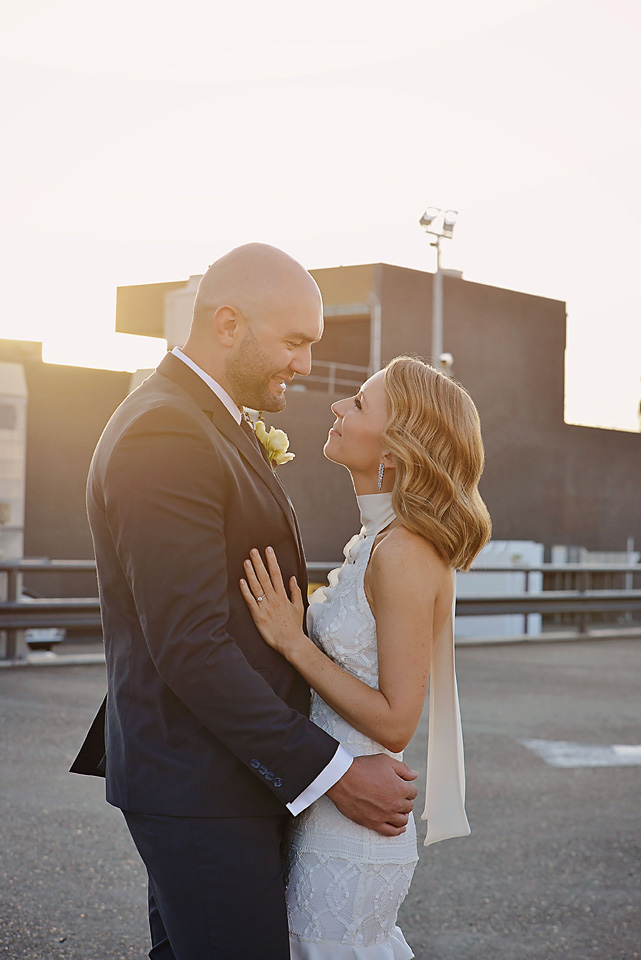 Not like the rest
More fun, more creative, more spunk!
Being in the wedding industry for 20 years means that we've seen it all… we've deleted the worst, rejuvenated the best and added our out-of-the-box ideas to design really different elopements… this is the birth of ELOPE Brisbane.
Our friends
20 years of experience also means that we've made lots of wedding industry friends and know the crème de la crème (those wedding peeps that are just so lit!).
You know what they say; sharing is caring! So we asked our amazing friends to share their talents with our Elope Brisbane couples…
Together, we are your wedding dream team!
Cream of the crop
These are our absolute favourite people…
Not only are they incredibly talented and creative industry professionals, but super friendly and fun beyond compare!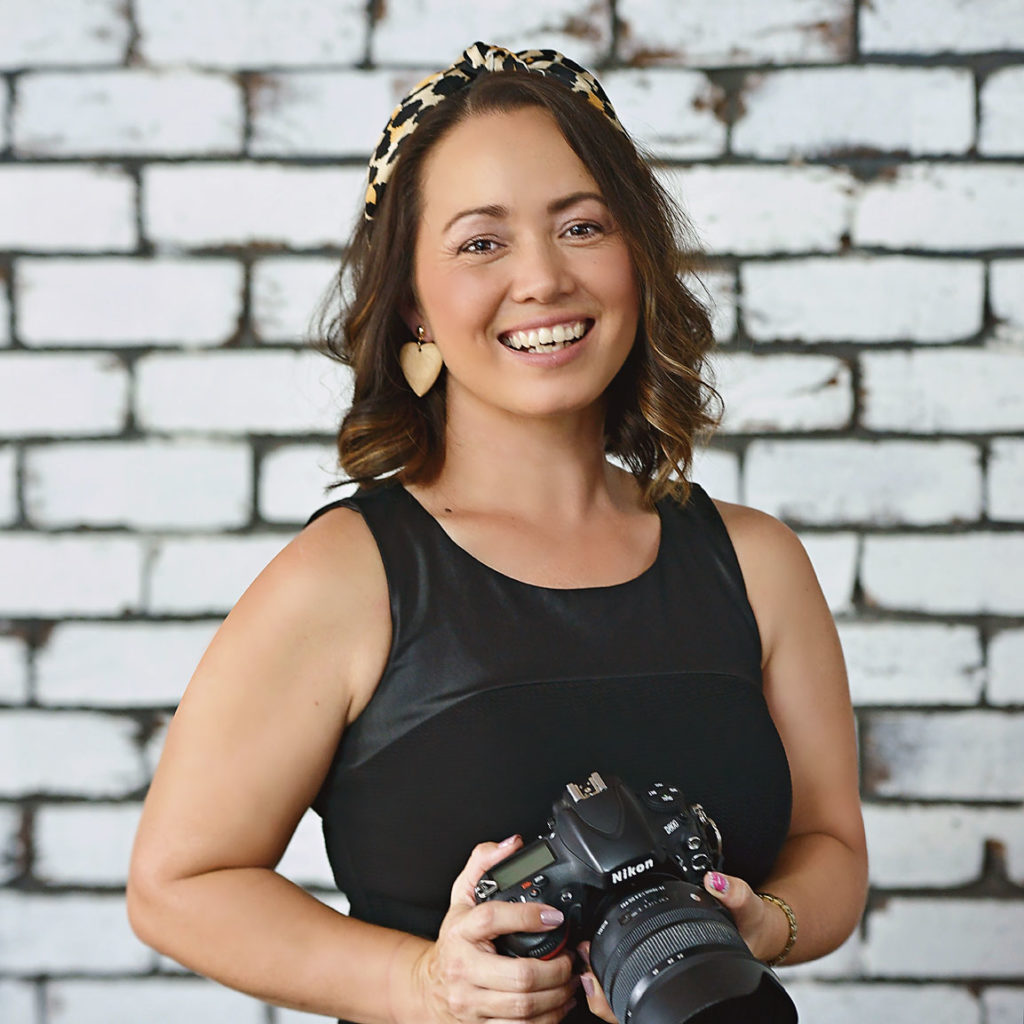 Romana
Photographer & Planner
Romana loves to break the rules… "Tradition? [Shrug] Why? Why not embrace something new, something different, something that's more YOU!?" That is entirely her motto!
So much so, that she and hubby Steve had a surprise wedding 16 years ago (before they were a thing), they even did a 'first look' and had photos before their ceremony! Whaaattt??
They also bucked more tradition by having what is now known as a 'micro wedding' – so hardcore when you both come from huge families that expect the big fat Island and Asian weddings!
The creative and adventurous side of Romana makes her so perfect for the role of elopement photographer. Her B.A Photography, multiple awards (including Best Wedding Photographer 2021 and Best Brisbane Wedding Photographer 2020 & 2021) and 22 years in the wedding industry also helps!
Romana has an amazing sense of humour (and known for her dirtier jokes), her sense of fun is often referred to as a major contribution on wedding days. She is organised, professional and loves a challenge – so hit her up with your crazy wedding ideas! She'll be frothin'!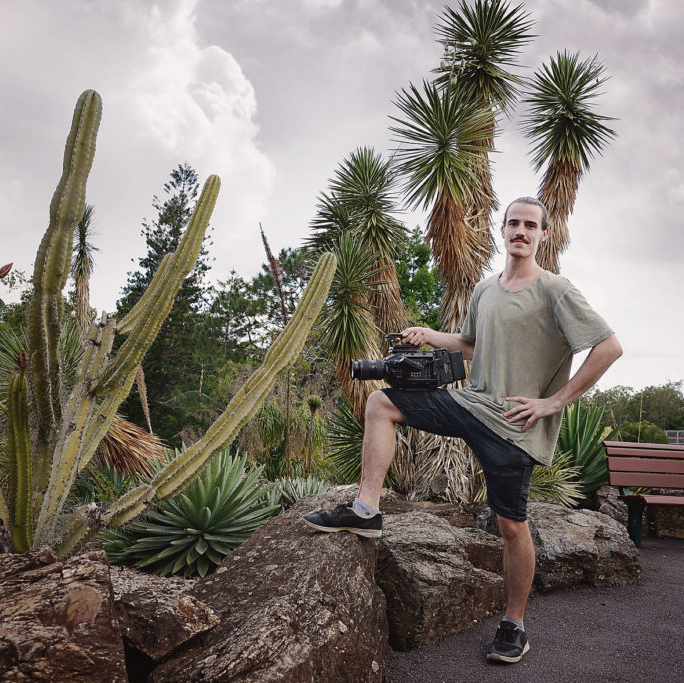 Dan
Film maker & Editor
Dan is a passionate, adventure-seeking film maker who's journey into the world of cinematography began at a very young age. Launching his wedding business in 2015 while still studying film at university, and booking over 50 weddings in his first year speaks to his commitment to the industry!
Since Dan's first overseas job in India, followed soon after by a beautiful wedding story in Fiji and another one in Italy, Dan's world has been about adventure and documentary film making.
Dan's commitment to adventure saw his move into 'van life' and mobile tiny house living! Dan loves being able to pull up anywhere after wrapping up a shoot.
He loves surfing, skateboarding, hiking, music and pretty much anything involving the outdoors. He's not afraid to wake up before the sun and spend hours chasing after a single shot. He is always able to bring a great energy to his wedding shoots and goes the extra mile to make sure the day runs smoothly.
"I always hope my couples don't shy away from asking anything out of the ordinary, I love extra-ordinary"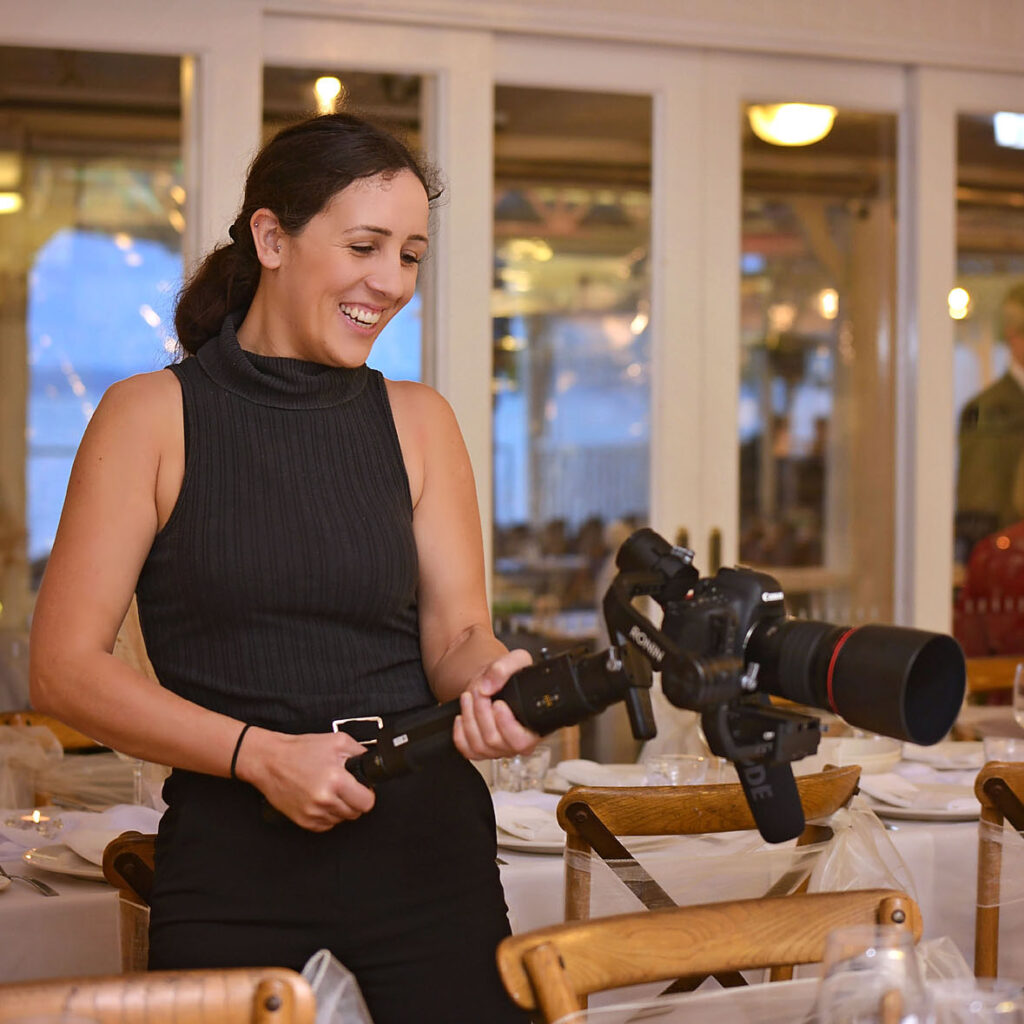 Amy
Film maker & Editor
Amy is a legend with a video camera and gimble… an incredible storyteller, and a bit of a romantic! (but don't tell her we said so 🙂 )
Camera shy? Amy, has a very candid approach to capturing your special day. She knows how to make you feel comfortable in front of the camera, and you will forget she is there filming most of the day. She likes to avoid staging where possible and instead likes to find the beauty in the moments as they unfold naturally.
"What is life without a little celebration. Our time on this earth is a gift and our time flies by so fast. It's important we celebrate the joyous moments in our life, celebrate them with friends and loved ones. Celebrate our milestones, finding our forever person, our engagements, our weddings, our successes, our days of birth. These are the moments that make life so pure, so honest, so fulfilling, and these are the moments we shouldn't hesitate to capture and document. By documenting these moments we are allowing ourselves to forever be taken back to those moments in time, those feelings, those emotions, the laughs the cries and everything in between. A camera is just that, here to document our stories."
– Amy Harman (Time Flies By Videography)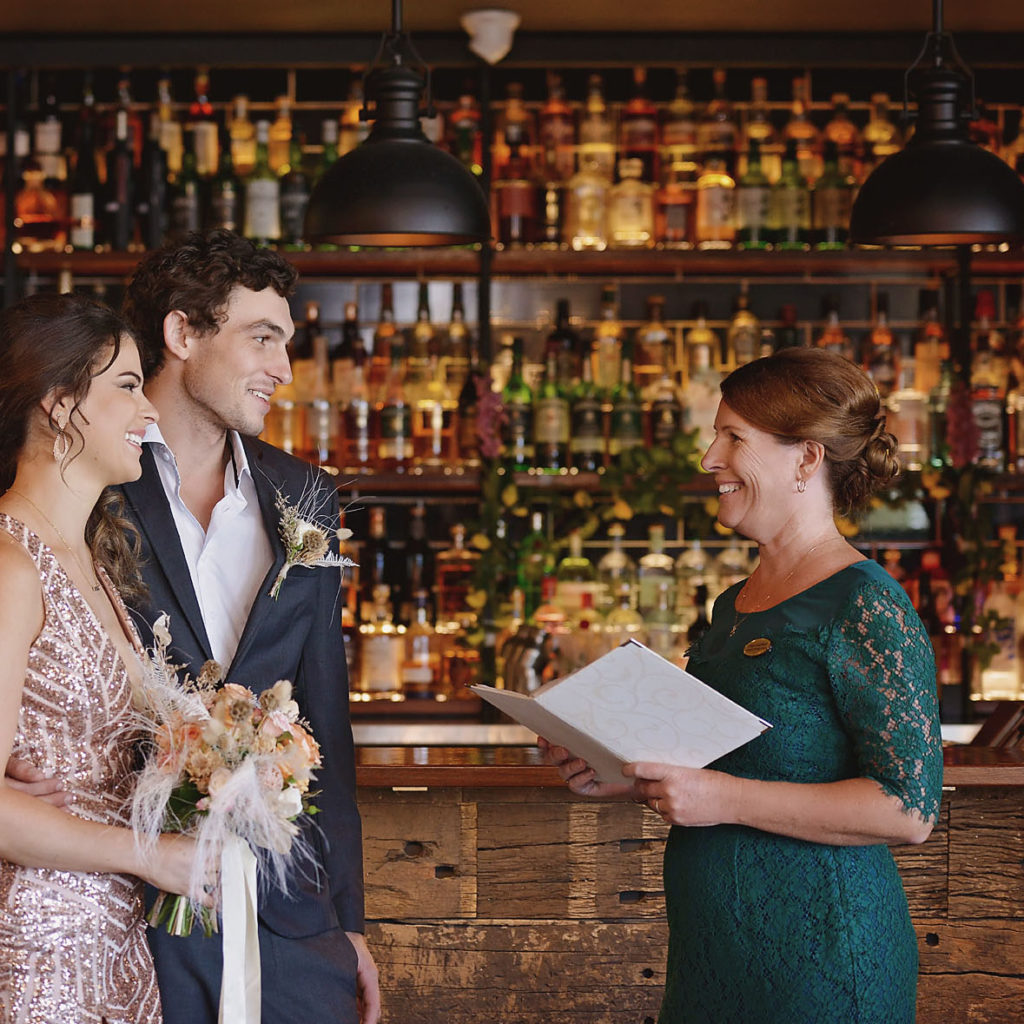 Cheryl
Civil marriage celebrant
Not only a celebrant for over 16 years but a teacher to the celebrants! So Cheryl's always in the know and up to date with the legal requirements for marriage here in Oz.
Cheryl and her hubby ELOPED!!! The two eloped back in the 90's – what an adventurous pair! The Whitsundays was their perfect location to wed! Toes in the sand – so romantic! And it really was just the two of them – they celebrated with their families when they returned at their 'reveal party'!
Both sets of parents who had been saving for the big fat wedding – gifted the cash as a wedding present. It all went towards their beautiful new home together! YAY!!!
Over 25 years (of wedded bliss and 5 children) later Cheryl gets to help other couples fulfil their elopement dreams!
When she's not writing ceremonies, she enjoys yoga, swimming, sauv blanc and the beach.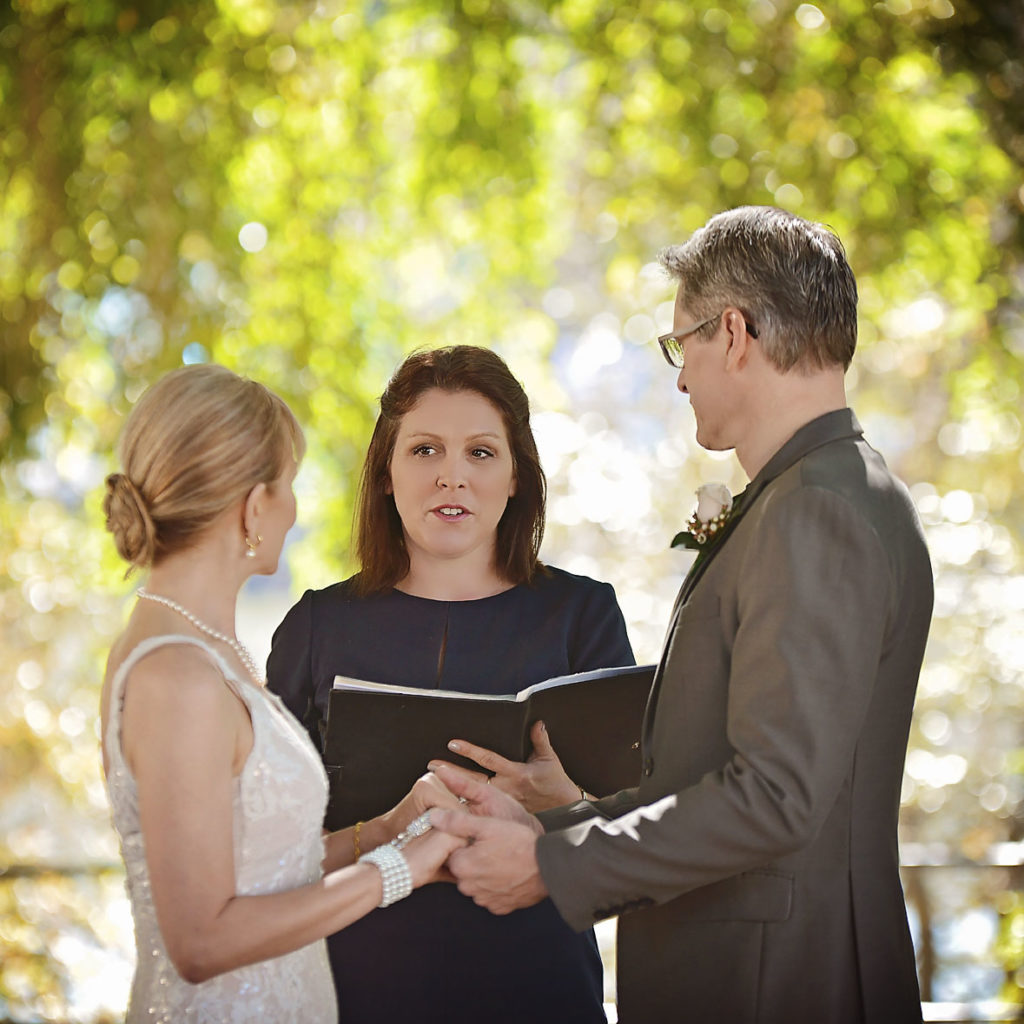 Ketrina
Civil marriage celebrant
Known as quite the adventurer, Ketrina has trekked in the Himalaya's, drove race cars on a Grand-Prix Race track, met her hubby in the South of France, married in Cyprus and has honeymoon photos with the Egyptian Pyramids as a backdrop.
Ketrina just LOVES marrying! Here, there and anywhere! And, how ever you please! She won't shy away from those 'off-beat' and unique ideas, having recently held ceremonies on a remote island in the Great Barrier Reef, on a mountain side while the sun was rising and 3000ft above the Gold Coast Hinterland in a hot-air balloon.
Married to her Artist Husband for over 20 years, they sure know what it's all about. They've embraced the happy times, worked through the tough. Been on adventures, grown together, moved to Australia and brought two gorgeous yet cheeky boys into the world. "I love my man to bits" she says "Although he drives me crazy at times, as I know I do him also, we're in it forever! I'm sooo very proud of us"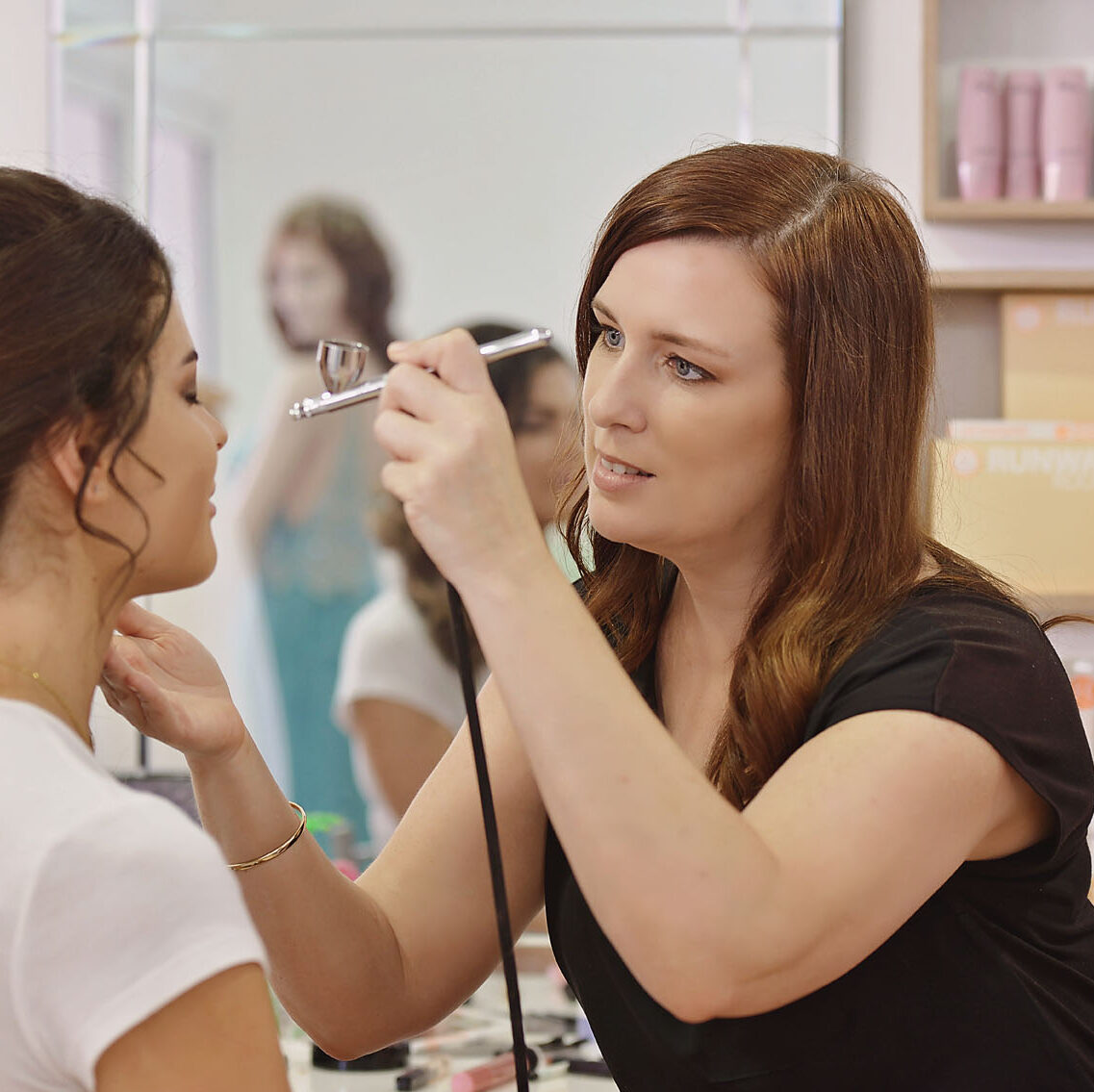 Suzie
Hair & makeup artist / gowns & accessories
Another hair and makeup guru that goes above and beyond for her couples… Suzie has been in the industry for almost 2 decades and recently took home a Bride's Choice 2019 'highly commended' award.
Suzie started her career in dance and then moved her creativity to hair and makeup after her own wedding.
If you're after a fun, salsa dancing artist to add to your wedding prep – she's your girl!
Suzie wishes her daughters loved makeup as much as she does, so that she could play on their faces in her spare time.
Specialising in airbrush makeup and traditional foundations, Suzie can work with what's best for your skin type.
Did we mention that she also has a great selection of gowns for brides and bridesmaids? Not to mention bridal hair accessories.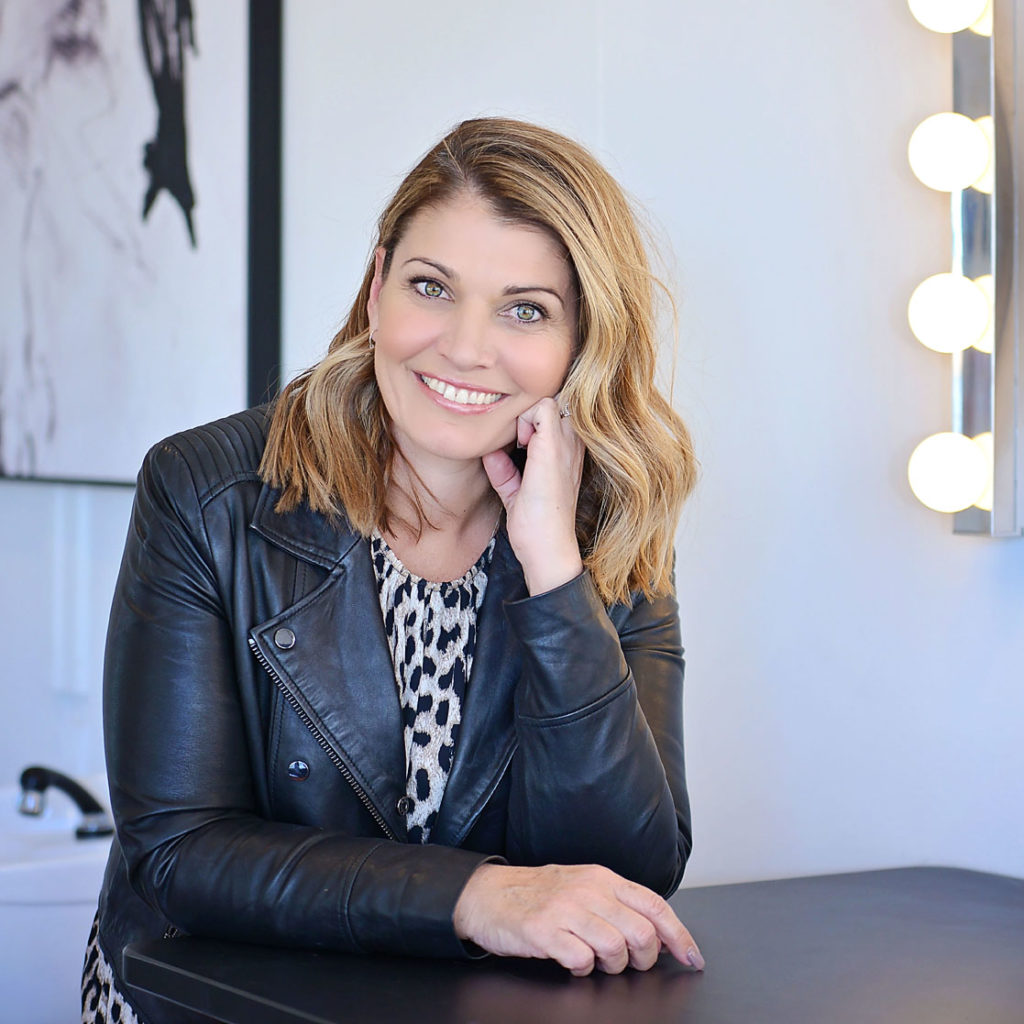 Jo
Hair & makeup artist
Jo has been at the forefront of the hair and makeup industry for over 24 years. Not only an industry leader with a number of awards under her belt (including the recent MAGAP 'Makeup artist of the year 2019' award) but the sassiest chick we know!
If it's not 90's R&B it's just not music, and she can shake it like a polaroid picture – but will deny it with her fingers crossed behind her back!
Jo lives to be creative and her chosen outlet of hair and makeup up is so perfect for this girly – not girly girl!
While you can give Jo some inspo pics to work from, she really shines when you trust in her god-given talents and let her beautify you.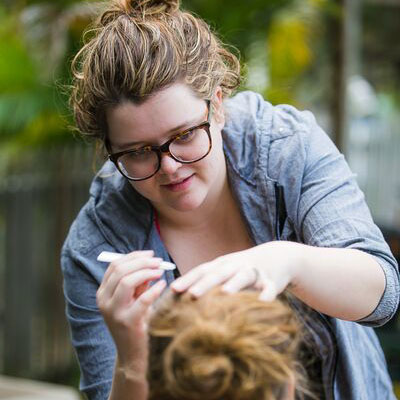 Ellen
Hair & makeup artist
Ellen is a qualified makeup artist and hairstylist with over 9 years wedding experience. 
When she's not helping people feel beautiful, Ellen and her husband spend all their our time trying to keep three small humans alive. Not forgetting their giant fur-babies too, Jack and Martha, a pair of Great Danes who think they're chihuahuas. Be warned, Ellen comes armed with a phone full of photos, so be prepared for the kid and doggie spam!
For Ellen, there's no better way to spend a Saturday than with a  group of ladies as they excitedly prep for the day they've spent months, or years, planning. If there happens to be a terrible 90's playlist, than so be it!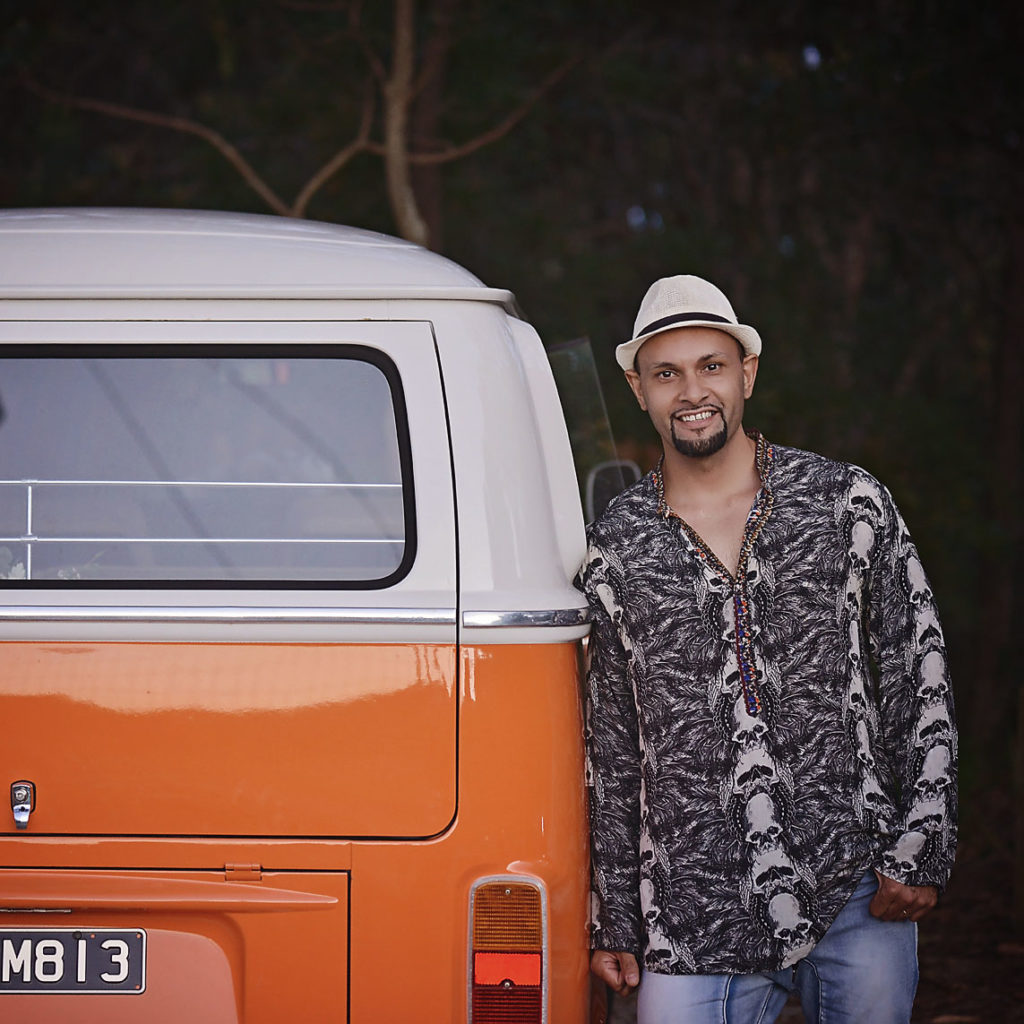 Steve
Kombi chauffeur
Steve is the proud owner and driver of Busta Rydes, his 1973 deluxe kombi transporter. Also known as Romana's other half (possibly the better half), he is a chill, humble, guy who will go above and beyond to make you feel special on your day.
Although fairly new to the industry himself, he has followed Romana's wedding career for 20 years, so we consider him a seasoned pro already!
Steve loves to bust-a-tune, so tell him your fav jams and he'll be sure to crank them up for you!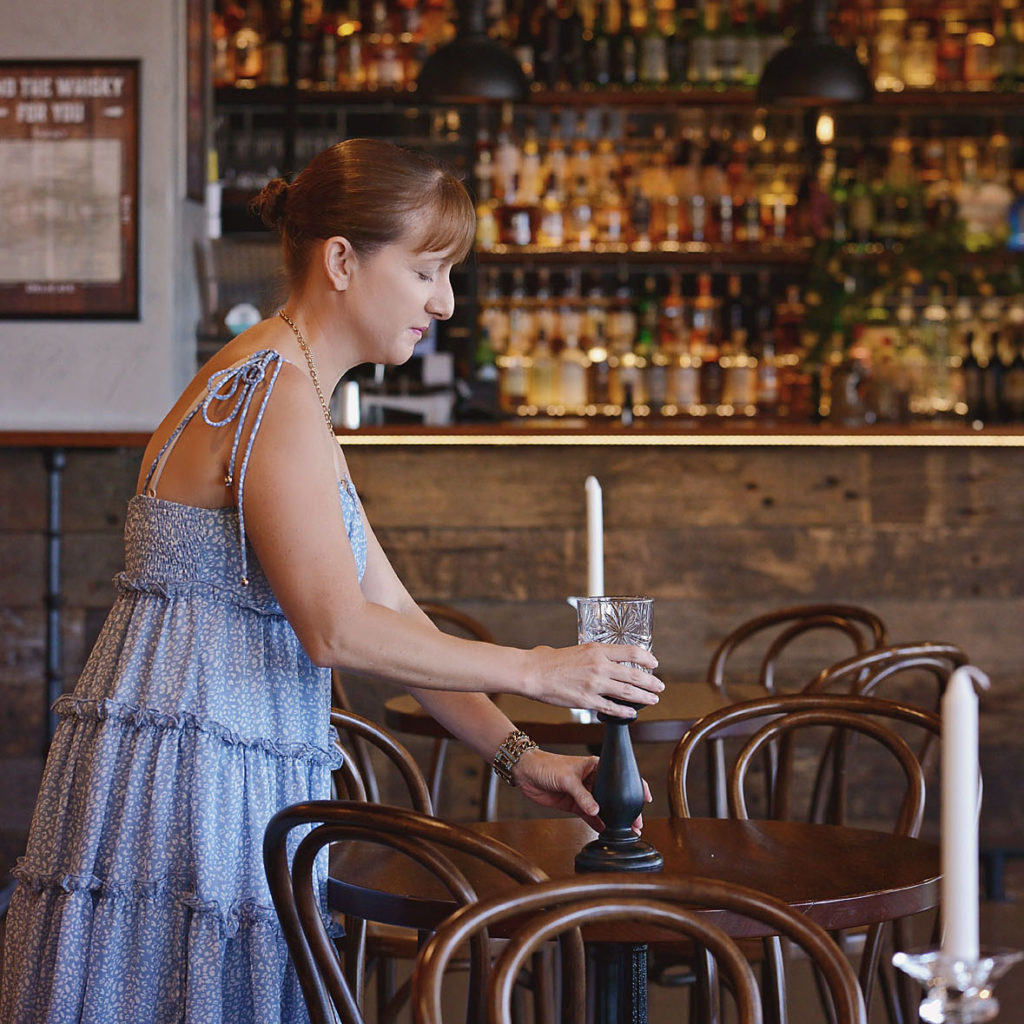 Melissa
Wedding stylist
Melissa is the shorty in the team, but that just makes her our super star pocket rocket!
Mel's big leap into the wedding industry over 7 years ago was an eventual result of her own wedding! She loved the planning and decorating for her lavish wedding so much that she HAD to have more of it!! Even if it was for other beautiful couples.
She's since landed her business in the top ten for Bride's Choice Awards 2019 and is the preferred decorator for venues and planners such as Tangalooma Island Resort and Pop Up Weddings Bayside.
Melissa loves to create new and exciting looks for her couples, push the boundaries and work outside the box – she loves it when couples are adventurous enough to say – "Just make it beautiful for me! Surprise me!"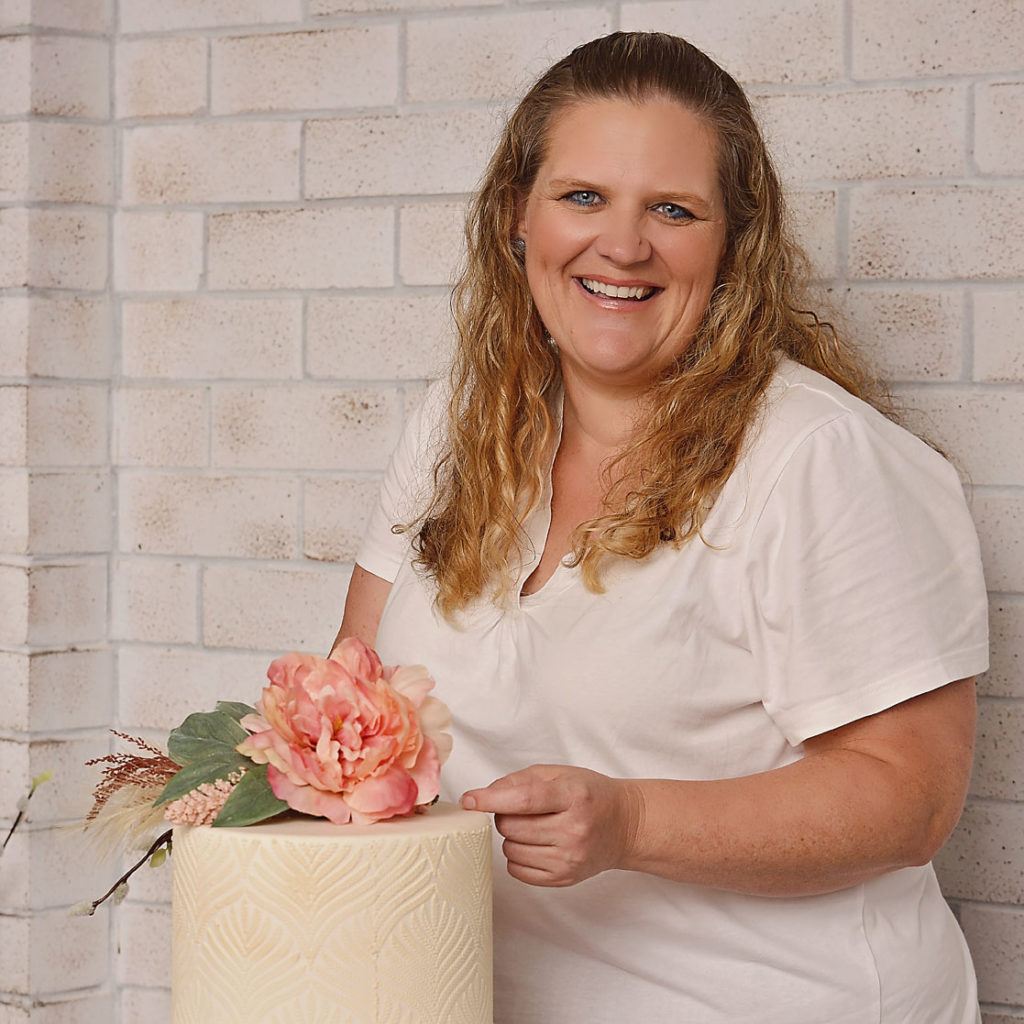 Simone
Cake decorator
Simone is the hardest working chick on the (chocolate) block and despite how incredible her cakes, both to taste and to look at, the most humble (pie) lol!!
Funny too! That's why we thought we'd start her little intro with a few cheeky bakers puns (or should that be buns?).
Having been in the industry for over 15 years, Simone has seen it all! We love all her weird cake request stories!
The best business to exhibit next to at a wedding showcase is Simone's, hands down! Now let me taste test that hun!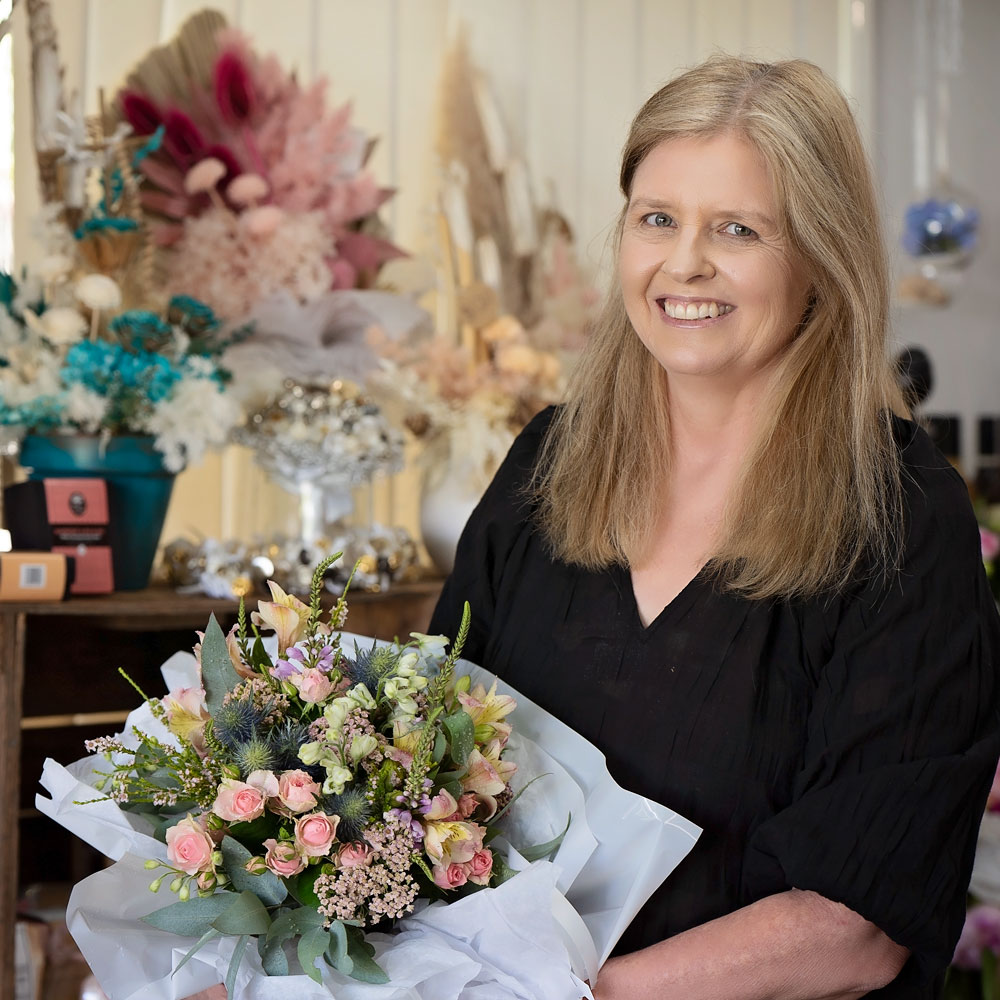 Michelle
Florist
Michelle has been a floral designer for over 30 incredible years!
Throughout her years as a fully qualified florist and floristry teacher, her passion has always remained the same… to work with her clients to bring their vision to life!
Michelle loves to see inspiration photos from her couples and designing bouquets to meet their every whim.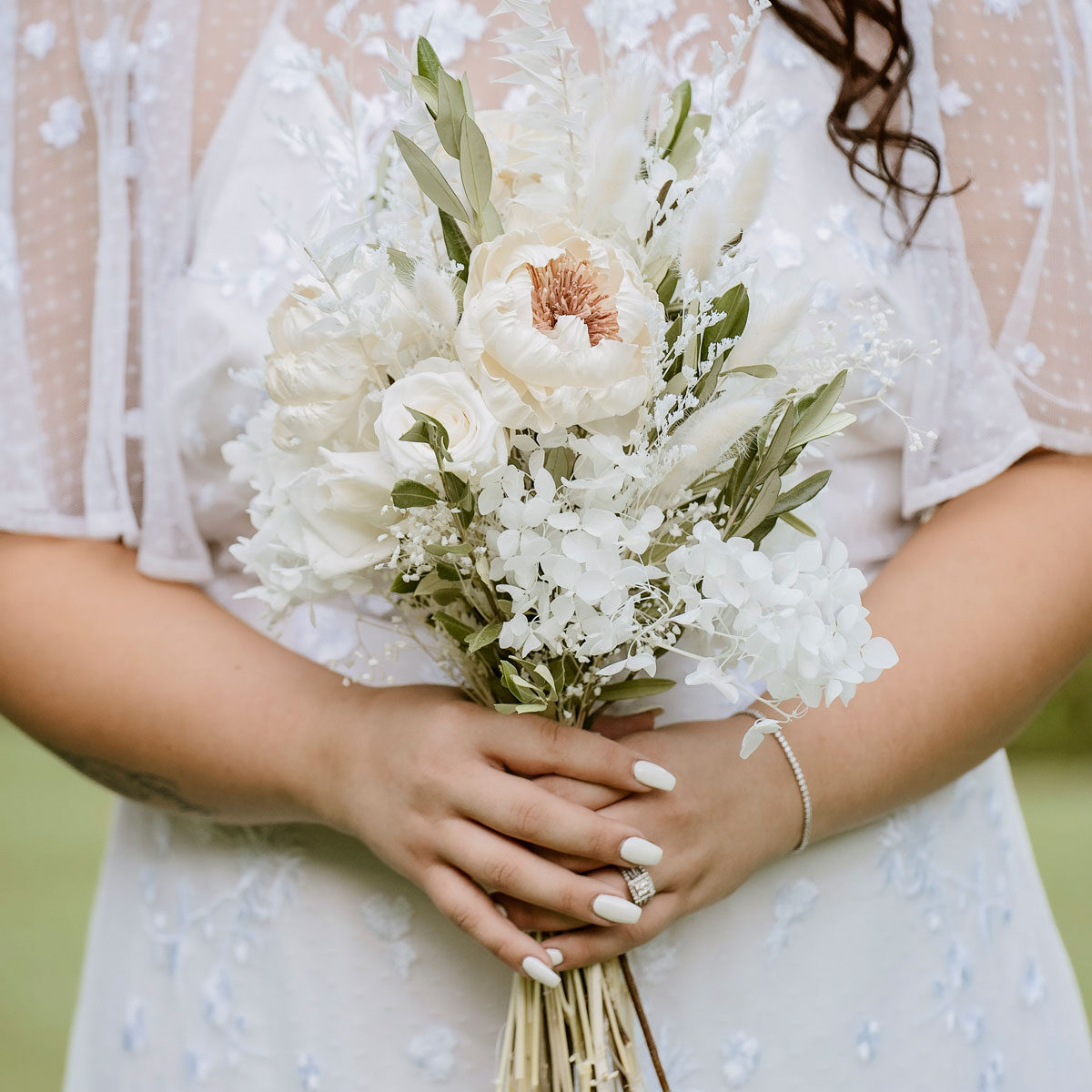 Tanya
Florist
Tanya is an artist and mum of three beautiful children. She finds joy in designing beautiful pieces of floral art, especially for special life changing occasions like your wedding day!
Tanya is always at the forefront of floral trends with her keen and eagerness to learn new techniques from the industry's best!
Based in the Redlands, but Tanya is happy to travel across Brisbane and beyond.
Let's get planning…
The first step is to drop us a line! Shoot us an email, include details like ideal wedding date and packages that speak to you.